High Schools Partner With Industry To Strengthen Workforce
To meet the evolving demands of modern manufacturing, a concerted effort is being made to develop a skilled and adaptable workforce. Throughout the Hudson Valley, various workforce development programs and courses have emerged at the high school level to address this critical need. These initiatives are an important way to foster a robust manufacturing sector, enhance economic growth, and provide individuals with valuable skills and opportunities. These programs expose students to various STEM and manufacturing positions. They provide pathways to professional growth and skill development.
There are dozens of programs in schools across the Hudson Valley ranging from clubs like rocketry and First Robotics to Project Lead the Way, AP and dual enrollment courses, engineering electives, career and technical programs, and P-TECHs. Over the past few weeks, we were able to meet with leaders from several of these programs to learn more about what they do and how they engage with industry to prepare students for manufacturing careers. Here is what we learned.
Ulster BOCES/Hudson Valley Pathways Academy
Ulster BOCES, led by District Superintendent & Chief Executive Officer, Jonah Schenker, and Assistant Superintendent, Peter Harris, is redefining education through innovative programs that bridge the gap between classroom learning and real-world experience. One of Ulster BOCES' most exciting programs is its P-TECH school, the Hudson Valley Pathways Academy (Pathways).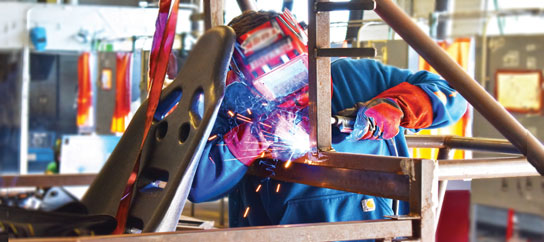 Pathways offers a transformative six-year experience where students earn both their high school diploma and an associate's degree through an innovative project-based curriculum, all at no cost. Students engage in real-world problem-solving with industry partners, crafting solutions during P-TECH classes and presenting them back to the industry partners. This unique blend of academic and practical learning equips students with the skills and knowledge for a successful future.
The Council of Industry has had the pleasure of being an industry partner for this program and has enjoyed helping to develop it into something unique and useful for students, while exposing them to the extensive manufacturing sector of the Hudson Valley. Ulster BOCES and the Council of Industry also support the Ellenville P-TECH Academy, providing classes and training opportunities to their students.
Schenker and Harris say they are taking some of the more successful features of Pathways and applying them to the Ulster BOCES general CTE program. Their vision for the program includes using the successes of their current P-TECH model and broadly applying them to other students at the Career and Technical Center, while also engaging them with industry partners.
Schenker and Harris were also able to share some of the tangible impacts of their programs with a remarkable success story. They highlighted the journey of a former student who founded a business, Laundry Scoop, thanks to his experience in the program. Harris shares the exciting news that the student sold Laundry Scoop to Aloha Laundry Life, a nationwide network, illustrating how Ulster BOCES' educational model fosters entrepreneurship. These remarkable initiatives, coupled with the organization's strong commitment to strategic partnerships and practical curriculum, place Ulster BOCES firmly at the forefront of educational innovation, embodying its vision for a brighter, more prosperous future for both students and the community.
Ulster BOCES' educational model fosters entrepreneurship — remarkable initiatives, coupled with the organization's strong commitment to strategic partnerships and practical curriculum place Ulster BOCES firmly at the forefront of educational innovation.
Orange-Ulster BOCES
Kathleen Smith, Director of Career & Technical Education, and Sara Puccio, Assistant Director of Career and Technical Education, at Orange-Ulster BOCES have a commitment to providing students with cutting-edge STEM and technical programs. Some of their programs include a STEM Academy that helps students to improve their thinking and reasoning skills and is built around learning about the engineering design process.
Orange-Ulster BOCES also offers a Mechatronics and Robotics program that helps students prepare for careers in fields where these skills are highly valuable. They emphasized the importance of equipping students with both technical skills and essential soft skills, such as problem-solving, communication, and adaptability, to thrive in rapidly changing industries. Smith and Puccio were able to share several success stories, including students securing employment right after graduation through internships and earning professional certificates in various fields. They also touched on the school's involvement in P-TECH programs and their efforts to stay informed about developments in education.
Pine Bush High School
Principal of Pine Bush High School Aaron Hopmayer has a commitment to developing students interested in the manufacturing sector. Pine Bush High School boasts a multifaceted program that encompasses the full spectrum of student interests and career aspirations. As Hopmayer passionately stated, "Our goal is to serve all levels of students, whether they're entering the military, workforce, or college."
The STEM curriculum offers an extensive selection of courses, ranging from drawing and design production to college level excelsior engineering, each tailored to cater to a diverse student body, for students with a variety of academic profiles. With a keen focus on soft skills development and hands-on, authentic learning experiences, Pine Bush High School is equipping its students with the essential tools and knowledge for a successful future. This approach has yielded remarkable success stories, with many alumni securing high-demand careers in the aerospace industry. One graduate of the program was also the valedictorian who went on to the Ivy League's University of Pennsylvania.
Hopmayer emphasizes that industry partners have helped the program tremendously by providing shadowing and professional development opportunities, as well as donating their time, machinery, and expertise. Pine Bush High School's commitment to equipping students with both technical knowledge and employability skills is truly commendable, and their innovative initiatives are paving the way for a brighter future.
High schools across the region are engaging with industry specific companies to offer a different perspective, work-based projects, improving the student experience, and creating pathways to meaningful careers.
Marlboro High School
Another notable figure in STEM education is the innovative Marlboro High School. Started in 2010, this important program is led by Thomas Fassell, who is the Engineering & Robotics teacher. The hands-on elective courses being offered include robotics, aviation, and technology, and prioritize experiential learning and resilience-building over conventional assessments. Students are encouraged to embrace failure as a stepping stone to growth.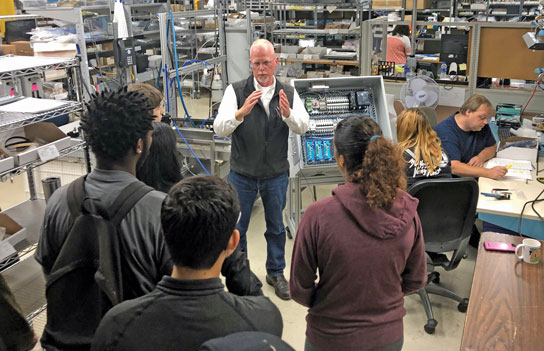 Fassel began the program with the help and encouragement of some parents of students in the district who worked in the engineering field. Today, Fassell and his students work closely with Council of Industry member Sono-Tek Corporation, where they see engineering and manufacturing in action. Several former students now work at the company as technicians.
Fassell's mentorship has paved the way for graduates who have found success in the Air Force, aviation, and technical fields. He envisions expanding the curriculum to incorporate high-voltage circuits and always is collaborating with industry leaders like Bantam Tools and Allendale Machine on several portions of his classes.
Ossining Union Free School District
The Ossining Union Free School District is making concerted efforts in the realm of STEM education, with Interim Superintendent Mary Fox-Alter, Christopher DeMattia, Director of Science, Technology, Engineering, and Math, and Maria Meyer, Assistant Superintendent of Curriculum & Instruction, at the lead.
The comprehensive STEM programs encompass a wide spectrum of opportunities, ranging from advanced placement and dual enrollment courses, a science research program, and robotics and engineering clubs. The Science Research program at Ossining Union Free School District stands as a testament to academic excellence, with students consistently competing at the highest levels in various competitions. This program provides students with a platform to manage their own thinking and engage with mentors in their chosen field, preparing them for future STEM pursuits. They also have a dynamic robotics team, which fosters hands-on learning, encouraging students to immerse themselves in technology, CAD systems, and prototype development.

Through these programs, Ossining Union Free School District educates and empowers students to explore and excel in the world of STEM. DeMattia explains that these programs "connect what you might learn in school to real-world problems" and offer students a glimpse into various STEM fields. The district's commitment to building students' capacity extends to partnerships with local industry experts. Two success stories that have come from these important programs would be a recent graduate who was involved in their engineering courses and the science research program. She has obtained a master's in industrial systems engineering and currently works for Lockheed Martin and is continually excited to participate in manufacturing in New York State.
Another former student is working as an electrician in Rockland County and went through the engineering program and First Robotics team. He was able to translate his knowledge into an important job in the Hudson Valley region. This integrated approach taken by Ossining Union Free School District ensures that students in these programs are well-prepared for their educational and career journeys.
Dutchess BOCES
Dutchess BOCES, under the leadership of District Superintendent, Jason Schetelick, is pioneering innovative programs that bridge the gap between education and industry needs in Dutchess County. It is evident that their commitment to workforce development is at the forefront of everything they offer.
A notable achievement is the Industrial Manufacturing Technician Boot Camp, backed by a grant from the New York Department of Labor and the Dutchess County Workforce Board. As Schetelick explains, this program seeks to equip students with essential skills, including "measurement, reading blueprints, and basic mechanical skills," as outlined by industry partners. Additionally, Dutchess BOCES is set to launch a groundbreaking P-TECH initiative, enabling high school students to graduate with both a diploma and an associate's degree, a testament to the school's dedication to educational excellence. Its engagement in international projects that also are partnered with local manufacturing organizations, like the collaboration with a German university and Onsemi, displays their students' ability to solve real-world problems.
Furthermore, success stories, such as hosting a signing day event for students securing careers straight out of high school, exemplify the tangible impact of these programs, turning dreams into reality for Dutchess County youth.
Conclusion
Developing a pipeline of workers with 21st century skills is vital to the success of manufacturers in the region and there are many high schools adapting to help build that pipeline. We learned a few things from our conversations over the past few weeks with these handful of schools.
First, there are many, many dedicated educators working hard to prepare their students for life after graduation. Second, programs featuring hands-on and project-based learning are popular and effective. Third, programs where industry partners and educators are both involved are the most successful, and educators are willing and excited to incorporate industry connections into their classroom.
No matter the specifics of the program we learned about, whether it is a first robotics club or P-TECH partnership, high schools across the region are engaging with companies in the industry to offer a different perspective, work-based projects, improving the student experience, and creating pathways to meaningful careers.
The tangible impact of these efforts is evident in the success stories of students who have secured high-demand careers, founded businesses, and excelled in STEM competitions. Furthermore, their commitment to forging partnerships with industry experts and providing authentic learning experiences highlights their dedication to preparing students for diverse paths. As these programs continue to thrive and innovate, they are not only fostering a robust manufacturing sector and enhancing economic growth but also providing individuals with valuable skills and opportunities, paving the way for a brighter and more prosperous Hudson Valley.